Saturday, September 18, 2021 - 12:05am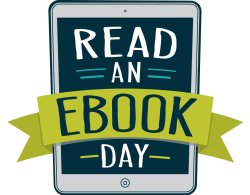 Ebooks enable you to take the stories and authors you love with you anytime, anywhere.
For the last half decade, libraries and schools have virtually come together each September 18th to celebrate the joys of digital reading on Read an Ebook Day. This year has been extremely unique for a myriad of reasons, but one thing that remains consistent is the fact that library users love ebooks and audiobooks.

Take this day to celebrate the fact that, although many of us are staying in our homes, we always have access to thousands of books from the library. #EbookLove is just a tap away. Borrow one of your favorite books or something completely new and discover the joys of digital reading.
Be a part of the festivities by checking out your favorite ebook from your library and join the conversation by sharing what you're reading and stories about why you love ebooks and by using the hashtag #ebookLove on social media.