Thursday, June 16, 2022 - 7:00pm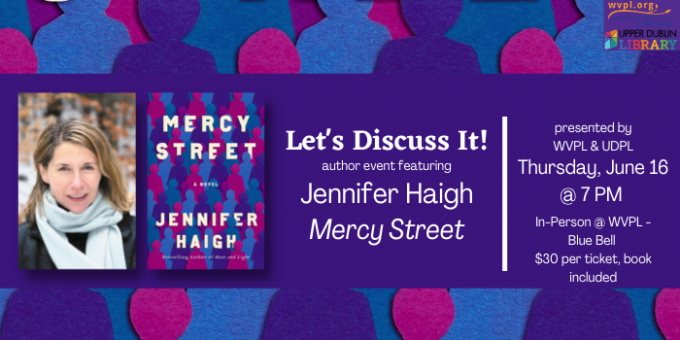 ***
(June, 2022) Upper Dublin & Wissahickon Valley Public Libraries present the Summer 2022 "Let's Discuss It!" program: An Evening with bestselling author Jennifer Haigh, Thursday, June 16 7:00p at WVPL - Blue Bell at 650 W Skippack Pike, Blue Bell, PA 19422. In collaboration with Open Book Bookstore (www.openbookphilly.com)
Use this link to purchase your ticket!
In their thirteenth collaborative Let's Discuss It! author event, the Upper Dublin and Wissahickon Valley Public Libraries invite you to an evening with New York Times bestselling author Jennifer Haigh as she discusses her newly released novel Mercy Street (published by Deckle Edge/February 1, 2022.) Acclaimed New York Times bestselling author Jennifer Haigh is "a gifted chronicler of the human condition" (Washington Post Book World). Haigh's seventh and highly anticipated new novel is a tense, riveting story about the disparate lives that intersect at a women's clinic in Boston. (www.jennifer-haigh.com)
---
"She has tapped the deep well of the human condition and relayed something profound about America at the turn of the 21st century."  
 – Publishers' Weekly
"Extraordinary… Wonderfully entertaining, boasting a large, varied cast of vividly drawn characters whose company readers will find deeply rewarding, in no small part because lurking in their shadows is the devastatingly wry humor of their creator. . . . [Haigh is] paying close attention to their choices, large and small. That's not artifice, it's art. And I was gobsmacked."
       – Richard Russo, New York Times Book Review (Editors' Choice)
Tickets are $30 (includes a hardback copy of Mercy Street) and are available for purchase through this link.
Plus! Author Q&A, book signing, and additional books for sale to follow.
Jennifer Haigh is the author of the short-story collection News from Heaven and six bestselling and critically acclaimed novels, including Mrs. Kimble, Faith and Heat and Light, which was named a Best Book of 2016 by the New York Times, The Washington Post, the Wall Street Journal and NPR. Her books have won the PEN/Hemingway Award, the Massachusetts Book Award and the PEN New England Award in Fiction, and have been translated widely. She lives in New England.
---
For more information, contact the libraries at: udpl.org (215-628-8744) or wvpl.org (215-643-1320)
For more information about Let's Discuss It, visit www.udlibrary.org or www.wvpl.org 
***